The HedgeNews Africa South Africa Single Manager Composite gained a median 2.05% in July as markets rebounded after a dismal June. By comparison, the FTSE JSE All Share Index gained 4.22%, South Africa's All Bond Index rose 2.39% and the MSCI World rose 7.86%, yet key markets remain in negative territory for the year so far.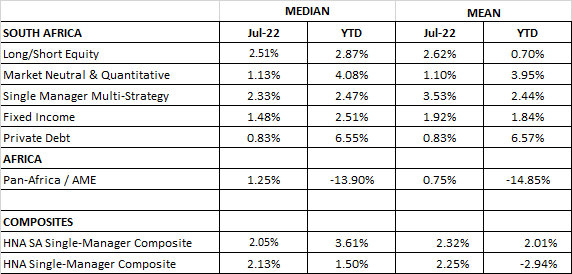 South African long/short equity funds were the best performing category in July, adding a median 2.51%. Multi-strategy funds also had a solid month, returning a median 2.33%. 
Market neutral and quantitative funds gained 1.13% in July, extending their steady gains, while fixed income funds added 1.48%.  Copyright. HedgeNews Africa – August 2022.