Markets were difficult in May, with the HedgeNews Africa South Africa Single Manager Composite declining by a median -1.38% for the month, its weakest month since March 2020, when the composite lost -4.75%.
South African market neutral and quantitative funds held relatively steady despite the negative environment, dipping a median -0.58%.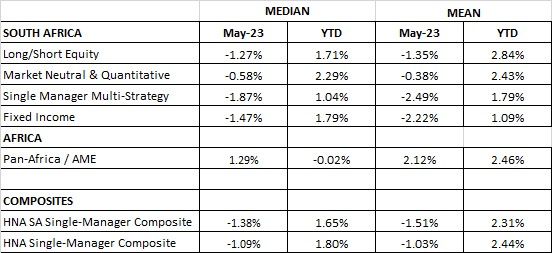 Long/short equity funds declined by a median -1.27% while fixed income funds were a median -1.47% lower for the month. Multi-strategy funds were the weakest category, declining -1.87%.
Pan African mandates generated some strong returns in May as the African markets bucked the broader market trend. Copyright. HedgeNews Africa – June 2023.