The HedgeNews Africa Single Manager Composite came in flat in March with an extensive range of underlying returns, as the FTSE/JSE All Share Index (TRI) lost -1.26% and South Africa's All Bond Index rose 1.32%.
By comparison the MSCI World Index gained 2.83% and the MSCI Emerging Markets Index added 2.73%.
Fixed income was the best performing category, gaining a median 1.37%, while market neutral and quantitative funds delivered a steady 0.23% for the month.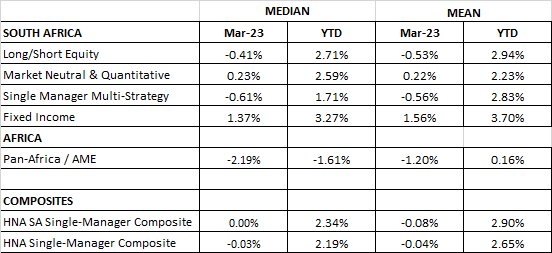 Long/short equity funds dipped a median -0.41% in March, while single-manager multi-strategy funds ended a median -0.61% lower.
Amongst pan-African funds, the HedgeNews Africa pan Africa /AME Index fell 2.19% in March while the MSCI Frontier Markets Africa Index lost -5.79%. Copyright. HedgeNews Africa – May 2023.