South African hedge funds were flat in December as markets closed out the year on a negative note.
The HedgeNews Africa South Africa Single-Manager Composite delivered a median -0.08% for the month, to end 2022 up 7.12%, while the broader HedgeNews Africa Single-Manager Composite climbed 0.05% to end the year 4.72% higher.
By comparison, the FTSE/JSE All Share Index declined by -2.26% for the month (up 3.58% on the year) and the All Bond Index added 0.6% (+4.2%).
Fixed income funds gained a median 0.77% to sit 6.34% higher on the year, while market neutral and quantitative funds also put on a strong showing, adding a median 0.53% to end the year 7.81% higher.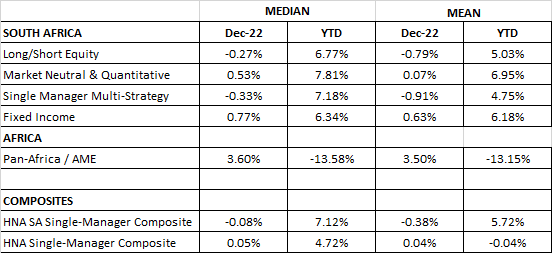 Private debt funds had another steady month, gaining a median 1.12% to sit 12.43% higher in 2022.
Long/short equity funds had a tricky month, generating a median of -0.27% to sit 6.77% higher over 12 months, while multi-strategy funds dipped a median -0.33% in December to end the year up 7.18%.
Pan African funds finished 2022 on a positive note, adding a median 3.6%, yet still down -13.58% on the year. Copyright. HedgeNews Africa – January 2023.