Hedge funds felt the heat in June's torrid markets, with the HedgeNews Africa South Africa Single Manager Index coming in -1.08% lower, its first negative number since October 2020.
Many funds limited losses compared with a decline of 8.01% from the FTSE/JSE All Share Index (TRI) and -3.06% from South Africa's All Bond Index.
Global markets were also battered, with the MSCI World Index losing 8.77%, MSCI Emerging Markets Index losing -7.15% and MSCI Frontier Markets Africa falling -4.5%.
South African market neutral and quantitative funds proved comparatively resilient, dipping a median -0.14%.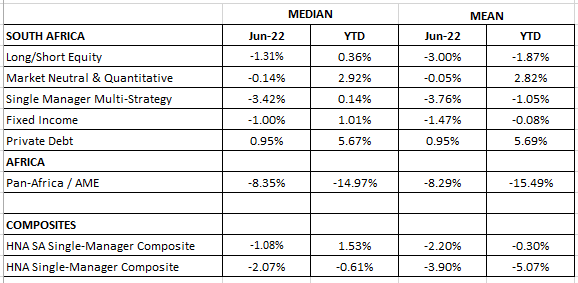 Fixed income funds declined by a median 1% for the month, as the ALBI dropped more than 3%.
June was a tough month for long/short equity funds as the market retracted, with the HedgeNews Africa long/short equity median declining by 1.31%, its weakest number since March 2020, when funds fell a median 9.08%.
Single-manager multi-strategy funds fell a median 3.42% in June to come in flat for the first half, while private debt funds remained steady.
Pan-African funds were hit by market swings in a troubled  June, with the MSCI Frontier Markets Africa Index falling -4.5% as Egypt's EGX 30 lost -9.11%, Nigeria's NSE 30 fell -3.6%, and Kenya declined by -4.1%. Both equity and fixed income funds felt pain, with several reflecting double-digit declines for the month. Copyright. HedgeNews Africa – July 2022.