All South African hedge fund strategies turned in positive medians in May, while global markets were shaken and the JSE All Share Index edged slightly lower.
For the month, the HedgeNews Africa South Africa Single Manager Composite added a median 0.55%, while the broader HedgeNews Africa Single-Manager Composite, which includes Africa funds, added 0.06%.
By comparison, the FTSE JSE All Share Index lost -0.36% while the MSCI World Index ended -0.16% lower and the MSCI Frontiers Markets Africa Index fell -6.93%.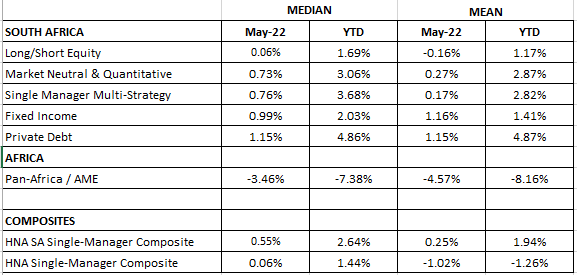 Fixed income funds fared better than equity-focused mandates, with a median gain of 0.99%.
Single-manager multi-strategy funds also had a solid month, with a median gain of 0.76% in May, while market neutral and quantitative funds added 0.73%.
It was a tough month for long/short equity mandates, which gained a median 0.06% for the month.
Pan African mandates had a difficult month, with all equity and fixed income funds ending in the red, while global funds were also under water. Copyright. HedgeNews Africa – June 2022.