South African hedge funds turned in respectable gains in April, with the HedgeNews Africa South African Single-Manager Composite delivering a median return of 0.65%.
April was a sea of red in global equities, with the MSCI World Index retracing by 8.43% and the MSCI Emerging Markets Index losing 5.75%, leaving both key indices down by double digits year to date.
The FTSE/JSE All Share Index lost 3.66% while South Africa's All Bond Index lost 1.7%.
Market neutral and quantitative funds were the strongest category, adding a median 1.69% to sit 2.32% higher on the year.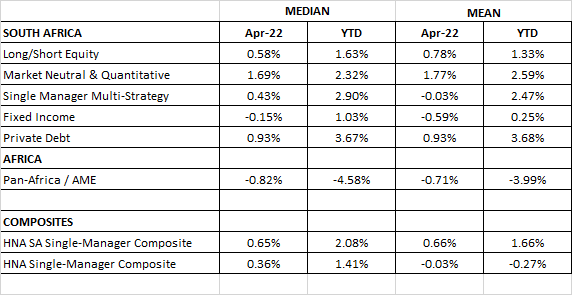 Long/short equity funds also fared well as a group, gaining a median 0.58% to come in with a 1.63% return for the year so far.
Multi-strategy funds delivered a median gain of 0.43% in April to sit 2.9% higher on the year, while South African fixed income funds had a tough April, with a median 0.15% drop the category's weakest number since a -2.07% decline in March 2020.
Pan African mandates had a difficult month, with most equities and fixed income funds ending in the red as the HedgeNews Africa Pan Africa median retraced by 0.82% to sit 4.58% lower on the year. Copyright. HedgeNews Africa – May 2022.