The HedgeNews Africa South Africa Single-Manager Composite added 0.63% in February, led by single-manager multi-strategy funds, with a median gain of 1.17%.
In the broader markets, the FTSE/JSE All Share Index added 2.95% for the month on a total return basis, while South Africa's All Bond Index gained 0.54%. Further afield, the MSCI World Index lost 2.65% and the MSCI Emerging Markets Index declined by 3.06%.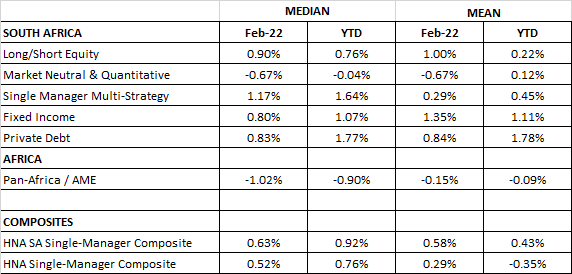 Long/short equity was the next strongest category in February, with a median gain of 0.9%.
Fixed income hedge funds gained a median 0.8% in February, while market neutral and quantitative funds had a tough month, dipping by 0.67%.
Amongst pan-African strategies, returns were mixed with several equity funds moving higher while fixed income funds battled. Copyright. HedgeNews Africa – March 2022.