South African hedge funds added a median 1.92% in December, according to the HedgeNews Africa South African Single Manager Composite, rounding out the year with a gain of 14.31%.
This compares with a return of 4.8% from the FTSE/JSE All Share Index (29.23% for the year) and 2.69% from the All Bond Index (5.27% for the year). Further afield, the MSCI World Index added 4.19% in December to close the year 20.14% higher and the MSCI Frontiers Markets Africa Index gained 2.21% (+7.6% for the year).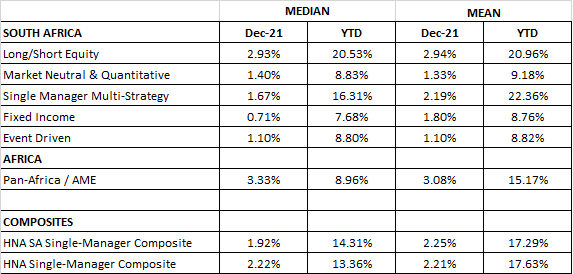 Long/short equity was the strongest category for the year, adding 2.93% in December to come in with a median 20.53% gain for 2021.
Multi-strategy funds rose 1.67% in December to end the year 16.31% ahead, while market neutral and quantitative funds added a median 1.4% to sit 8.83% higher for the calendar year.
Fixed income funds rose 0.71% for the month to close the year with a median gain of 7.68%.
Pan Africa funds gained a median 3.33% in December to reflect a 8.96% return over 12 months.