The HedgeNews Africa South African Single-Manager Composite edged 0.37% higher in November, while the JSE All Share Index gained 4.47% and the South African All Bond Index rose 0.66%.
Single-manager multi-strategy was the top-performing category for the month, adding a median 0.99%.
Private debt mandates also had a good month, returning a median 0.9%.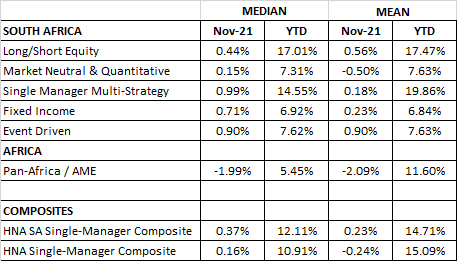 Fixed income funds outperformed their equity peers on a median basis, with the category gaining 0.71% in November.
South African long/short equity funds gained a median 0.44% for the month, while the market neutral and quantitative category added a median 0.15%.
Pan-Africa funds had a tough month, with the category dropping 1.99% as the MSCI Frontiers Markets Africa Index lost more than 10%.