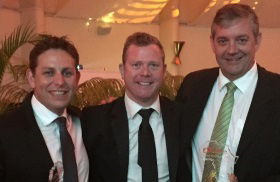 Investec Prime Services won two awards at the recent AGF Africa Service Provider Awards in Cape Town, taking the honours for Best Brokerage Services and Best Prime Brokerage.
The awards celebrate excellence in African fund services, and are created to generate recognition of the efforts and accomplishments of fund service providers covering Africa.
FNB Quest, Securities Africa and Exotix were also nominated in the best brokerage services category, while Credit Suisse and Peregrine Securities were shortlisted in the prime broker category.
Flynn Robson, Investec's head of prime services, Investec Corporate and Institutional Banking, said the company's offering is based on a boutique suite of services to help clients manage risk, monitor their portfolios, maintain liquidity and build their businesses, backed by a strong and experienced team with extensive practical experience.
He believes the team's offering is set apart by its positioning within an international banking group, offering high-quality solutions to the global market, with key international distribution facilities and focused local knowledge and relationships.
Its specialist Africa and frontier team is dedicated to serving clients with strategies in these regions, with an entrepreneurial spirit that allows it to deliver individual and bespoke solutions.
"Our integrated business model allows us to provide clients with a full range of specialist products and services, from one single market leading platform and client service team," he said. Copyright. HedgeNews Africa – November 2016.