Sanlam Investments is hosting its second annual Duck Derby on October 16, a charity fund-raiser that involves racing rubber ducks down the Breede River at the Robertson Wine on the River Festival. This year the initiative is being driven by the Sanlam Investments graduates as a part of their graduate programme.
All proceeds will go towards assisting the Bonnie-People Project, a community development organisation that Sanlam has adopted as part of its social upliftment initiative. The project includes a feeding scheme, daycare facility and youth programmes to assist the inhabitants, particularly the children, of the settlement of Bonnievale. Currently the project operates its youth programmes in an old leaking wendy house and three shipping containers – all of which do not meet health and safety standards. With more than 60 children attending the facility in the afternoons, the project is in need of a building that can be used as a skills centre and after school care facility. Part of the proceeds from the Duck Derby will also be used to fund this long-term building project.
Last year's event raised R100,000. The team has so far this year raised R45,750 via its online AddABit Fund, with a further R54,250 pledged. Ducks are available until October 15.
The Sanlam Investments team is selling ducks to individuals and corporates/businesses, either online or at the festival itself.
All ducks will be labelled and released down the river, with the first few ducks over the finish line standing to win some great prizes.
Ducks in the individual race are priced at R100, with a cash prize of R5,000.
Ducks in the corporate race cost R1,000 each, with the R5,000 prize donated to a charity of the winner's choice.
For more information see www.sanlamduckderby.co.za or contact VukileT@sanlaminvestments.com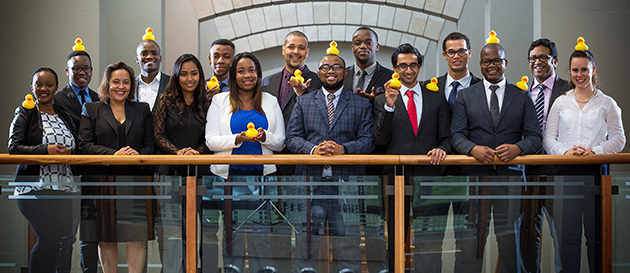 Members of Sanlam's graduate training programme, with investment core CEO Nersan Naidoo and human resources manager Lee-ann Desai, promote their annual Duck Derby charity initiative.